Escape to a world of refined luxury and timeless elegance at Palacio Can Marqués, where sophistication and history merge seamlessly. Nestled in the heart of Palma de Mallorca's historic heart, this enchanting 18th-century palace-turned-boutique hotel beckons discerning travelers seeking an extraordinary experience.
Step through the doors of this architectural masterpiece and be greeted by a majestic ambiance that transports you to a bygone era. Immerse yourself in the rich heritage of this Baroque city mansion, beautifully restored to showcase its original charm while embracing modern comforts.
The design of the Can Marqués mansion is a sight to behold, featuring a covered courtyard and an inverted imperial staircase that leaves an indelible impression. Majestic, classical, and austere, this Mallorcan mansion stands as a testament to the island's rich baroque style. Discover the grandeur of monumental spaces adorned with alabaster columns and captivating portholes that bathe every corner in a warm, ethereal light.
Designed for a luxurious experience
Unwind in the lavishly appointed suites, where a harmonious blend of classic and contemporary aesthetics awaits. Each room boasts a unique character, showcasing elegant furnishings, sumptuous fabrics, and exquisite artwork.
The palace has been transformed into a haven of refined interiors by none other than Aline Matsika, a globally acclaimed interior designer with offices in Paris, New York, and Hamburg. Prepare to be enthralled by an eclectic and captivating collection of furniture, artwork, and paintings, meticulously curated by Matsika herself.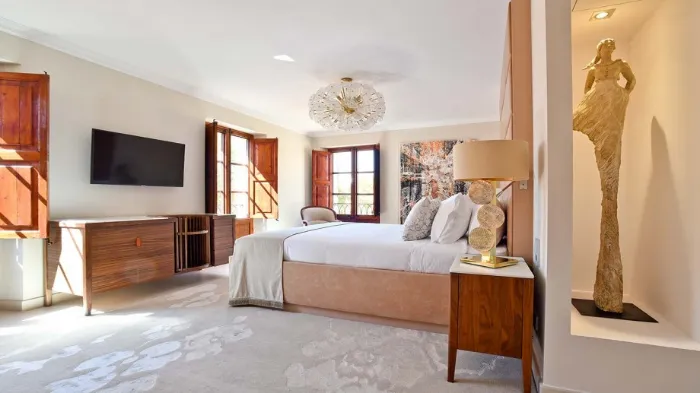 Palacio Can Marqués proudly embraces its role as a "purist hotel," where the original features of the palace are lovingly preserved. Here, antique furniture seamlessly coexists with state-of-the-art technology, creating an environment that exudes comfort, glamour, and sophistication. Immerse yourself in a space like no other, where every detail has been thoughtfully crafted to enhance your experience.
At Palacio Can Marqués, design is not just a visual feast; it's an immersive journey. Let the rich tapestry of colors, textures, and architectural marvels transport you to a realm where luxury knows no bounds. Lose yourself in the alluring combination of historic grandeur and cutting-edge elegance, where every corner whispers stories of sophistication and refinement.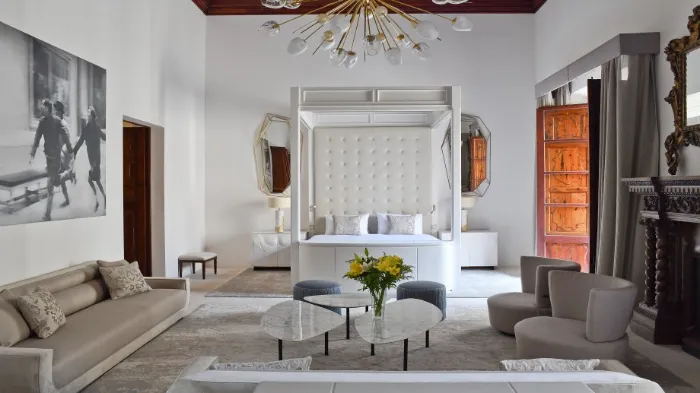 Discover the magical rooftop terrace and the secret garden
Discover the enchanting outdoor spaces of Palacio Can Marqués and let the Palace Roof Terrace and Secret Garden become your sanctuaries of relaxation and serenity.
Sip your favorite drink in style as you soak in the magnificence of the cathedral and the panoramic vistas of Palma from our Roof Terrace. Whether it's basking in the warm sunshine during the day or enjoying pre-dinner cocktails while witnessing the captivating sunset, the terrace is the epitome of relaxation.
The secret garden is the perfect place to immerse yourself in the vibrant city life of Palma while reveling in serene atmosphere. The secret garden is an idyllic backdrop for a quiet moment after a long day of work, shopping, or sightseeing, inviting you to savor a drink, indulge in a snack, or even enjoy a delightful dinner.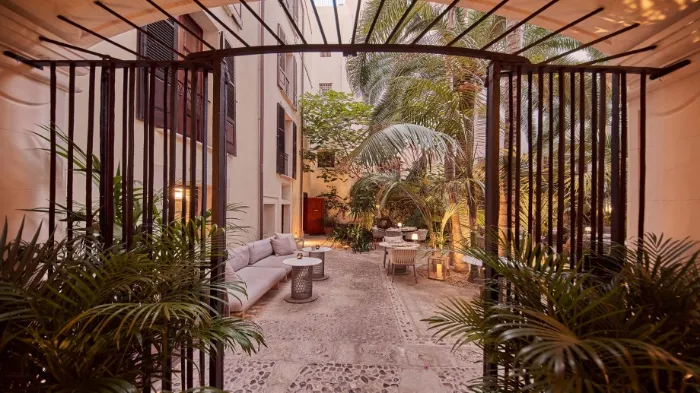 Personalized Wellness Experiences
Immerse yourself in the purest essence of the Mediterranean as you surrender to the care of our expert therapists. The personalized Spa Menu is meticulously designed to elevate the vibratory frequency of your body, mind, and spirit, ensuring unique and unforgettable experiences that leave you feeling truly revitalized.
Can Marqués has made a unique partnership with SeaSkin Life to create a special wellness ritual that seamlessly blends cutting-edge cosmetic technology with the ancient wisdom of traditional medicines. The SeaSkin Life formulas are a harmonious fusion of Apitherapy, Phytotherapy, and Hydrotherapy, enriched by the practice of Aromatherapy—a catalyst for holistic well-being. Prepare to be pampered in the lap of indulgence.
Dining at Palacio Can Marqués
Palacio Can Marqués treats your taste buds to a culinary journey like no other. Savor delectable Mediterranean cuisine masterfully crafted with locally sourced ingredients at the hotel's Michelin-starred restaurant. Delight in the harmonious flavors and impeccable presentation, all while basking in the refined ambiance of the dining room, adorned with ornate chandeliers and frescoed ceilings.
Book your stay at Palacio Can Marqués and embark on an enchanting voyage, where legends of luxury await your arrival.